The Deep
---
This deep plunging, halter top swimsuit can take on any wave or pool day. The front closure prevents any slippage and the lace up back keeps things flirty. 
The Deep tie back one piece is especially well suited for a large bust, but looks amazing on all body types. It pairs well with confidence and rosé.
Both models wearing size X- Small
Featured with the Blue Crush and Sweet Honey Sunnies
Sustainably made with regenerated fibers--to reduce our carbon footprint. 
84% Polyester + 16% Elastane
Customer Reviews
01/10/2022
Shannon D.

United States
Made me feel amazing
I wore this swimsuit for my birthday party! It made me feel so beautiful! As a plus-size woman, bathing suits can be restrictive, and this swimsuit was could be custom fitted with the back tie. I felt secure in all the right places. I am so excited to where it again.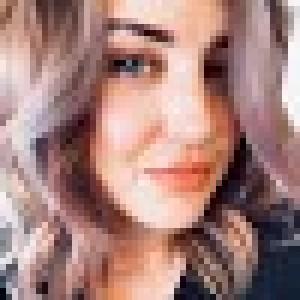 KP
04/25/2022
Kristina P.

United States
Honestly - just buy it- in every color
As many of you may know purchasing swimsuits when you are above a size 6 and curvier isn't always the best experience, though to be fair, it probably isn't thrilling for most in general. There are a few things going against you generally when you have crossed over into the "midsized" range that can be truly confusing for not only yourself, but apparently the experts that designs bathing suits. I have experienced the super small leg holes because someone seems to think we are built like flamingos (nice and round in the middle with tooth pick legs), I have experienced the pleasure of putting on a suit that is loose in the midsection and ***, but my boobs can barely fit into, then my personal favorite, loose in the *** and ****, but cutting off the circulation in my waist. Because nothing feels sexier than wondering if you are going to permanently damage an internal *****. Thankfully, my experience with the deep suit from beauty swim was anything but that. I feel supported and even flattened a bit in my midsection, my butt feels lifted and curvy without creating 4 *** cheeks and my boobs look perky and aren't sloppily left to fall all over the place because of minimal strength in the straps. It provides enough coverage so that I can't be both shamed and over sexualized for the bags of fat on my chest, but also am not being treated like a nun in 1902 Rome. (I don't know what was going on in Rome in 1902, but I still imagine the nuns were fully covered.) This is absolutely the suit I would wear to a kid friendly pool where there was a hot single dad I wanted the attention of. If you are looking for more insight from a size 10-12 DDD cup wearing perspective that perhaps addresses suits that would appeal to the melon felon in your life please see my review for the breaker. A suit I would wear to the adults only resort in Mexico or a Baywatch role-play in the bedroom.
The best damn swimsuit there ever was
I was looking for a perfect suit for our honeymoon to Hawaii and I found it The Deep!!! I have large ******* (36D) and a bit of a tummy. However, when I put this suit on for the first time I was absolutely astounded at how flattering the cut and shape were. I couldn't wait to wear it at the beach! This suit is one of a kind. I got numerous compliments on it while rocking it at the beach and most importantly, it gave me the confidence to feel incredibly sexy at the beach!! It also made my booty and tatas look great while keeping everything in place while wave jumping. I would buy this suit again in a heartbeat- well made, well designed, and earth concious fabric.
Why do People Love Beauty and the Beach?
"Swimsuits for all body types"
"One-piece swimsuits that are super sexy"
"Look like a bombshell at the beach"
"Effortlessy sexy classic crochet bikini"
"The hottest looks for the coolest spots"
"Swimwear that's the next level of hotness"
"Swimsuits that are anything but boring"
"Inexplicably alluring without trying to hard"
as seen on
JOIN THE MOVEMENT
There is a reason so many celebrities are spotted wearing our suits.
Kourtney Kardashian
Chrissy Teigen
Emily Ratajkowski
Leann Rimes
Irina Shayk
Kate Upton
Nina Agdal
Sarah Sampaio
Alex Morgan
Alyssa Miller
Jessica Gomes
Samantha Hoopes
Hilary Rhoda
Robyn Lawley
Emily Didonato
Hannah Ferguson
Hailey Clauson
Kate Bock
Genevieve Morton
Katie Willcox
Brandi Glanville
Crytal Renn
Cyntia Dicker
Jarah Mariano
Ebonee Davis
Marloes Horst
Solveig Hansen
Zoe Duschesne
Kathy Leutner
Harley Gusman