The Flirt Top
---
Have it all in this one shoulder bikini top that allows you to feel confident and daring, with just enough support and a whole lot of edge.
This asymmetrical pull on swimsuit top has no boning or padding for peak comfort. 

Paired here with the high waisted Flirt bikini bottom, this bikini top can also be paired with the Rebel bottom. It is high waisted and the thick, luxury fabric provides a slimming and smoothing effect.
Sustainably and ethically made from Carvico Vita
Recycled yarn that is ultra chlorine resistant, retains its shape, has a two way stretch, resists pilling and is super soft!
Sizing Recommendations:
Flirt Top: Because this is a pull on bikini top, we recommend sizing by your underbust measurement. Reviews say a Medium, comfortably fit a 34D
Flirt Bottom: Overall, these bottoms ran small. If you would like more coverage, are taller than average, or want it so sit higher for more beachy cheek we recommend sizing up.
Sizing of swimsuits shown: 
Aventurine - X-Small
Celestine - X-Small
Tangerine - Medium
Black - X-Large Top / Large Bottom
Customer Reviews
Love this top
I got the flirt top and I absolutely love the design and fit. I went with a medium and wear a 34d and it was both stylish and sexy!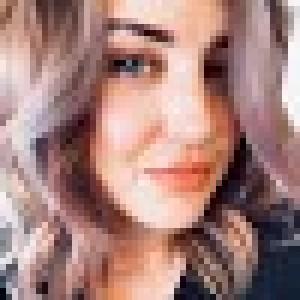 KP
04/25/2022
Kristina P.

United States
In there like swimwear- ha ha - get it?
SO - let me start by saying I LOVE a good tight hold on my swim suits when I'm going to be interacting with sand and water. SO many variables at the beach that could lead to a little nip slip - will it be me tripping over a stray child, an aggressive seagull hungry for blood or my own clumsiness turning this PG13 outing rated R? I don't know, but what I do know is this top leaves very little room for escape. It feels secure, it feels fun, it feels sexy - all things I am here for. Will for sure mention you should absolutely go 1-2 sizes up in this if you are working with a C cup or more. If the thought of doing that makes you cringe a little please don't. It just means you have way more built in chest cushion to soften your fall when you do tumble over that roaming (apparently parentless) sun ***** child.
01/07/2022
Leslie

United States
Favorite swim suit!
Super flattering and comfortable set. The one strap is super trendy without being over the top.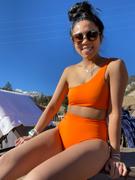 Why do People Love Beauty and the Beach?
"Swimsuits for all body types"
"One-piece swimsuits that are super sexy"
"Look like a bombshell at the beach"
"Effortlessy sexy classic crochet bikini"
"The hottest looks for the coolest spots"
"Swimwear that's the next level of hotness"
"Swimsuits that are anything but boring"
"Inexplicably alluring without trying to hard"
as seen on
JOIN THE MOVEMENT
There is a reason so many celebrities are spotted wearing our suits.
Kourtney Kardashian
Chrissy Teigen
Emily Ratajkowski
Leann Rimes
Irina Shayk
Kate Upton
Nina Agdal
Sarah Sampaio
Alex Morgan
Alyssa Miller
Jessica Gomes
Samantha Hoopes
Hilary Rhoda
Robyn Lawley
Emily Didonato
Hannah Ferguson
Hailey Clauson
Kate Bock
Genevieve Morton
Katie Willcox
Brandi Glanville
Crytal Renn
Cyntia Dicker
Jarah Mariano
Ebonee Davis
Marloes Horst
Solveig Hansen
Zoe Duschesne
Kathy Leutner
Harley Gusman